Save your bullet points for grocery lists.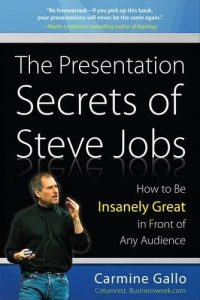 This was among the first books where I had to use my highlighter all the time to find amazing quotes. When the topic of your book revolves around Steve Jobs, it is imperative that you will end up with some amazing quotes!
More than a quote, Carmine provides a candid response to those who defend bulleted lists on slides.
I interviewed Carmine when this book was released–read the interview here: An Interview with Carmine Gallo
Filed Under: C
Tagged as: Carmine Gallo, Presentation Design, Presentations, Skills, Steve Jobs

Microsoft and the Office logo are trademarks or registered trademarks of Microsoft Corporation in the United States and/or other countries.