Thursday, May 18, 2023, posted by Geetesh Bajaj at 5:37 pm


Whether it was working with a single model for a page in Vogue or 400 people aboard a ship to promote a Norwegian cruise line. It was obvious that for me photography was more about clicking with people than about clicking with a camera.
This is another awesome book that makes you realize that you are one part of an entire world ecosystem.
Filed Under: N
Tagged as: Nicholas Boothman

---
Thursday, October 27, 2022, posted by Geetesh Bajaj at 2:10 pm


People skilled in data visualization are hard to come by. Part of the challenge is that data visualization is a single step in the analytical process. Those hired into analytical roles typically have quantitative backgrounds that suit them well for the other steps (finding the data, pulling it together, analyzing it, building models), but not necessarily any formal training in design to help them when it comes to the communication of the analysis–which, by the way, is typically the only part of the analytical process that your audience ever sees. And increasingly, in our ever more data-driven world, those without technical backgrounds are being asked to put on analytical hats and communicate using data.
This is one of those books that helped change the thinking about not using complicated, text-heavy charts.
Filed Under: C
Tagged as: Charts, Cole Nussbaumer Knaffic, Design, PowerPoint, Presentation Design, Visuals

---
Thursday, April 2, 2020, posted by Geetesh Bajaj at 10:00 am


Our verbal mind does not work without our visual mind. Those of us raised in the western educational tradition find that terrifying. Pictures trivialize, drawings are silly, doodles patronize, art is decoration. These are the things we're told in school. In this marvelous book, Ekaterina Walter and Jessica Gioglio show us how wrong we are. Thinking in pictures is our nature. Sharing those pictures has long been our dream. With the arrival of global social media, we have a whole new set of tools to make that dream come true.
Strangely, this quote is not from the actual book, but from the foreword. I used this quote since it describes the book amazingly. Yes, the book is indeed amazing.
You May Also Like: The Discomfort Zone: Conversation with Marcia Reynolds
Filed Under: E, J
Tagged as: Dan Roam, Ekaterina Walter, Jessica Gioglio, Storytelling, Visuals

---
Thursday, March 28, 2019, posted by Geetesh Bajaj at 9:45 am


As you no doubt have noticed if you've ever sat through a typical PowerPoint presentation, people don't pay attention to boring things. You've got seconds to grab someone's attention and only 10 minutes to keep it. At 9 minutes and 59 seconds, something must be done to regain attention and restart the clock–something emotional and relevant. Also, the brain needs a break. That's why I use stories in this book to make many of my points.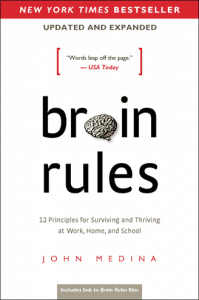 The book is absolutely awesome. Do make sure you get a copy and read it!
You May Also Like: The Discomfort Zone: Conversation with Marcia Reynolds
Filed Under: J
Tagged as: Attention, Brain Rules, John Medina, PowerPoint, Stories

---
Thursday, October 19, 2017, posted by Geetesh Bajaj at 9:00 am


For years, "Change your thoughts, you change your behavior" was the mantra for life improvement. Through experience and science, we have since learned that affirmations rarely change behavior when emotions have taken the wheel. When your buttons get pushed into anger and your mind floods with fear, telling yourself to be calm or courageous won't stand up to the voices in your head telling you to defend or shut up.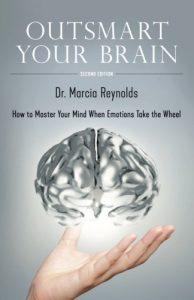 I just started reading Marcia's book, and have to pause the reading so often to contemplate on her wisdom.
You May Also Like: The Discomfort Zone: Conversation with Marcia Reynolds
Filed Under: M
Tagged as: Anger, Fear, Marcia Reynolds, Thoughts

---
---
Microsoft and the Office logo are trademarks or registered trademarks of Microsoft Corporation in the United States and/or other countries.