Thursday, August 24, 2017, posted by Geetesh Bajaj at 9:00 am


We're all going to experience bloopers on stage. For most of us, millions of people around the world won't be watching. But our ability to exhibit grace and resilience under pressure and a sense of humor, and to understand that we're all human, will go far to entertain and satisfy our audience – and perhaps give our presentation that extra luster that people will remember long after it's over.
Lisa's book is so easy to read. Just open any page, and there's so much wisdom that will help you become a stellar presenter. She provides tips and ideas on every presentation related topic from visuals and props to bloopers and humor.
Filed Under: L
Tagged as: Lisa Braithwaite, Presentations, Wisdom

---
Thursday, August 17, 2017, posted by Geetesh Bajaj at 9:00 am


The desire for more positive experience is itself a negative experience. And paradoxically, the acceptance of one's negative experience is itself a positive experience.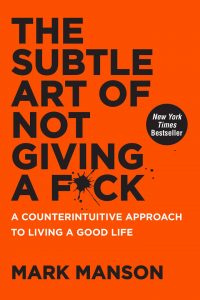 Mark really knows how to make the maximum impact with few words. More importantly, the profound wisdom and truth in his words cannot be doubted, although the messages he provides are peppered with controversial words and ideas. Some people may find this packaging helps them understand the message better.
Filed Under: M
Tagged as: Mark Manson, Positive, Wisdom

---
Thursday, August 10, 2017, posted by Geetesh Bajaj at 9:00 am


People need to be aroused by surprising statements about their behavior and by questions that make them stop and think about what they are saying. If you break through their mental frames, they will stare at you for a moment as their brains look for ways to make sense of what they are considering. Then a burst of adrenaline could cause an emotional reaction, anything from nervous laughter to anger before an insight emerges. If you act on this moment by helping to solidify the new awareness, their minds will change. If you do not facilitate this process, a strong ego may work backward to justify the previous behavior.
Marcia's book is not only awesome but it is also different than many other similar books. Why? That's because Marcia is very generous sharing her wisdom. More importantly, the book reveals that she cares about how you would go about making the changes explained. She clearly looks at what's going to happen next as a result when you make a certain change!
I interviewed Marcia last month, and you can see the same characteristics in her answers too. See: The Discomfort Zone: Conversation with Marcia Reynolds
Filed Under: M
Tagged as: Comfort Zone, Discomfort, Marcia Reynolds, Psychology

---
Thursday, August 3, 2017, posted by Geetesh Bajaj at 9:00 am


One of the most important functions of your unconscious is the processing of data delivered by your eyes. That's because, whether hunting or gathering, an animal that sees better eats better and avoids danger more effectively, and hence lives longer. As a result, evolution has arranged it so that about a third of your brain is devoted to processing vision: to interpreting color, detecting edges and motion, perceiving depth and distance, deciding the identity of objects, recognizing faces, and many other tasks. Think of it–a third of your brain is busy doing all those things, yet you have little knowledge of or access to the processing.
This is a book that makes you think. It combines psychology and our everyday lives and delivers results in bite-sized chapters that you can benefit from. It's so amazing that Leonard combines research done two hundred years ago with new findings, and presents it in a way that you can use anywhere, from e-commerce to presenting!
Filed Under: L
Tagged as: Leonard Mlodinow, Psychology, See

---
Thursday, July 27, 2017, posted by Geetesh Bajaj at 9:00 am


Look around you. Your clothes, language, furniture, house, city, and nation all began as a vision in someone else's mind. Your food, drink, vehicles, books, schools, entertainment, tools, and appliances all came from someone's dissatisfaction with the world as they found it. Humans love to create. And creating starts with an idea that can change the world.
Nancy Duarte's Resonate is among the classic books that you can find about storytelling. Although you can read the book from cover to cover, you can also open any page and read to gain insight and wisdom that will help you immediately.
Nancy did an exclusive interview with Indezine when Resonate was released. She also spoke about the iPad edition of Resonate.
Filed Under: N
Tagged as: Change, Create, Ideas, Nancy Duarte, Resonate

---
---
Microsoft and the Office logo are trademarks or registered trademarks of Microsoft Corporation in the United States and/or other countries.